The current position:Wire Series - Perforated Metal & Perforated plate
Anping county Boli wire mesh hardware Products. offer perforated metal with various patterns mainly standard perforated patterns and decorative patterns.
Custom designs available. Precise parameters guaranteed.
Hole Patterns including: Round; Rectangular hole; Square; Triangle; Diamond; Hexagonal; Cross; Slotted; and other patterns according to your drawings or application requirement.
PlastOk supply perforated sheet, usually ex stock. Materials are usually stainless steel SS 304 and 316, but we can also supply copper, brass and more exotic metals, subject to availability. Most can be made to order.
Perforated sheet is usually made in panels 2 x 1 and 1.25 x 2.5 metres.
We can supply perforated sheets specially punched to a specific size, including margins, if needed, or guillotined from stock sheets.
Holes can be circular ( standard ), square, or to artistic patterns, for architectural applications.
( over 6 mm thick, it is referred to as 'plate' )
Samples
If you are unfamiliar with perforated sheet, we can send a small sample of you to examine.
If you need to carry out small scale trials with your product ( either fluids or powders) we can send you a larger piece. ( subject to availability )
We will advise on the best way of performing the tests, and of course, safely.
Fabrications
Perforated sheet is a stiff and durable material, ideal for filter-plates, filter-baskets, screens and filter-elements, and as a support for woven wire meshes and filter cloths.

Please indicate parameters below when you ask for a quotation:
hole pattern
sheet shape
material
sheet sizes
unique requirements
applications
other information you regard helpful
We are waiting for your inquiry!
1.Material:low carbon steel plate,stainless steel plate,aluminum plate,Al-Mg alloy plate
2.Hole Diameter: 0.5-100mm
3.Dimension: The most common width and length are as follows:
1000mmX2000mm
1220mmX2400mm
1250mmX2500mm
1250mmX6000mm
1500mmX3000mm
1500mmX6000mm
However, we also manufacture other sheet sizes according to clients' requests.
4.Application: Perforated material is widely use as agriculture equipment, audio,automotive & transport, architecture, design, electronics, noise control, pharmaceutical, filtration, etc.
5.The packing: wrapped with plastic paper, then in wooden pallet
6.The parameters we need to quote to you are as follows:
1)Hole shape
2)hole Diameter: the size of the holes
3)Hole pattern: staggered or straight
4)Pitch(the distance between two nearest holes' center)
5)Dimension: width and length
6)Quantity
Thickness: 0.5-25mm
Thickness of the matel sheets do not change during the perforation.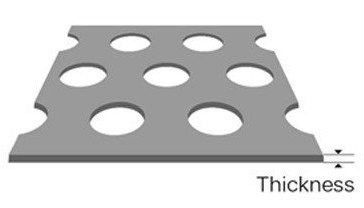 Margins
Margins are the blank (un-perforated) area along the edges of the sheet.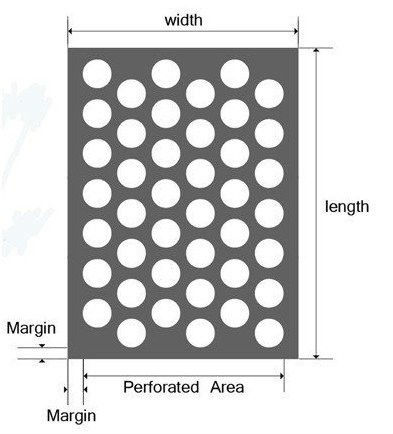 Hole Arrangement
Round holes are normally arranged in 3 types. Other hole patterns and hole arrangements aslo can be made.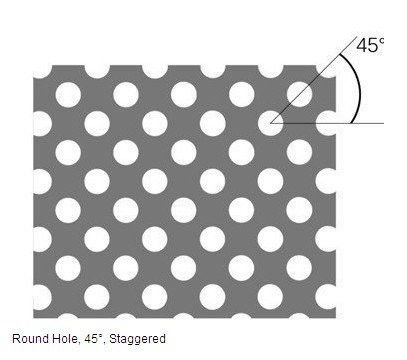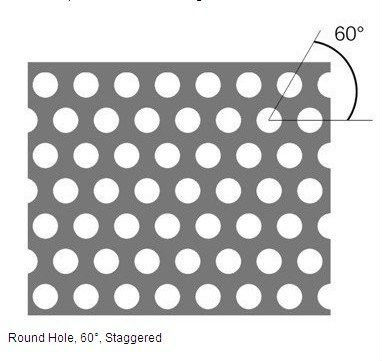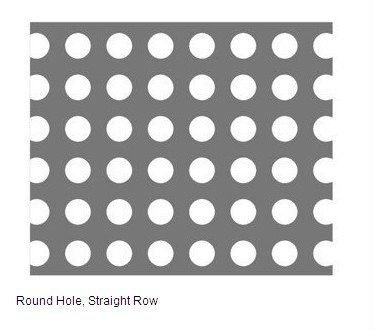 Hole size and Pitch